MEDIA RELEASE FOR BEARING WITNESS
@ OFFTHEMAPGALLERY, TORONTO
Director & curator: Antonia Lancaster

Ian Amell, Susan Feindel, Robert Kananaj, Allan Kosmajac, Clarissa Lewis
Diane Misaljevic, Walter Redinger, Rita Stavraki, Ruth Tait

BEARING WITNESS

Opening reception, Saturday May 1, 2-5 pm
Show runs from May 1 - May 29, 2004

80 Spadina Avenue, 5th floor, Toronto, Canada M5V 2J4
Gallery Hours: Wednesday through Saturday, 11am to 5pm

"Many voices are never heard and as artists we can bear witness to only a few.
The works were chosen for their very individual voices and the vastly different
areas they bare witness to; keeping a time or incident before us if not forever
maybe a little while longer." Curator Antonia Lancaster

IAN AMELL
iamell@hotmail.com

"Life is a journey not a destination." We experience it as a series of events, some
important, some trivial. We can move from event to event recording them or we
can participate in them. The two pieces in this show bear witness to two such life
events; death and friendship.

Ian is an artist who has worked in Manitoba, Montreal, and Toronto. He is a
graduate of the fine arts honours program at the University of Manitoba. He was
chosen to represent Manitoba in two cultural areas of the Summer Olympics In
Montreal in 1976. He has exhibited his art work in Winnipeg, Montreal and
Toronto and most recently in France. Ian's work is represented in private
collections across North America.

SUSAN FEINDEL
sfeindel@eastlink.ca

My works tracks distant and fragile habitats, sometimes juxtaposing medical
imagery with oceanographic imagery, bringing each closer to human
consciousness and making visceral, the phrase, "my body the sea".

I have found support for my work through the National Art Gallery of Canada
Claudia De Hueck Art and Science Fellowship program, the granting programs of
the Region of Ottawa-Carleton and the Department of Tourism and Culture, Nova
Scotia, and the support of staff and directors of my representative galleries;
Studio 21, Halifax, Nova Scotia, and Galerie St. Laurent-Hill, Ottawa, Ontario. My
studio practice also inhabits the public domain through the permanent
installation of commissioned mosaic and fresco murals.

ROBERT KANANAJ
kananaj@yahoo.ca

Video: Bearing Witness by the eye of the camera to the age of two of my temples.

Kananaj was born and trained in Albania where he earned a University Diploma
and a Diploma associate in Sculpture from the Academy of Fine Arts, Tirane.
Kananaj moved to Canada in the late nineties. He has shown his work in
Albania, Greece, and in Toronto where he is now represented by the Edward Day
Gallery.

ALLAN KOSMAJAC & DIANE MISALJEVIC
dna_media@sympatico.ca

"The mission that has developed to testimony is no longer to bear witness to
inadequately known events, but rather to keep them before our eyes."(Annette
Wieviorka). 'Remnants' is an introspective look at the war in former Yugoslavia
1992-1995, a theme relevant to both Allan Kosmajac, and Diane Misaljevic's
familial history as well as the history current political leaders are grappling to
define.

Allan Kosmajac and Diane Misaljevic are multidisciplinary artists based in
Toronto. Their installation and photographic work has appeared in various
site-specific exhibitions in Canada, Bosnia,and Croatia. Their recent exhibitions
the church of the Holy Trinity in Toronto, as well as facades of destroyed buildings
in Sarajevo and Croatia. Diane Misaljevic studied media arts at Ryerson
University in Toronto. Allan Kosmajac studied photography in Sarajevo, and at
Ryerson University.

CLARISSA LEWIS
clarissalewis@ca.inter.net

Bearing witness is a social activity. What I find really interesting is that we are,
without realizing it, constantly bearing witness when we try to report factually. By
bearing witness to what is observable, we also bear witness to what is absent or
has not occurred.

Clarissa Lewis is a graduate of the Fine Art program at U of T. Her work is
represented in a number of private and corporate collections in Canada, USA and
Israel. Selected solo exhibitions include: Homer Watson House and Gallery,
Kitchener; White Water Gallery, North Bay; The Gallery, U of T, Scarborough
Campus.

WALTER REDINGER
redx@golden.net
www.walterredinger.com

Ghost Ship

the ship
in its self
is a work of art
a state of mind

its truth
now lies in its rubble
as it is now
beyond its own time

in former days
it faced
foreign winds

arching its back
not to be burnt
at its own water line

it had been
all of this
and in our sadness
we recognized it

its beauty lies
in this story
and we know
it had energy
and that its energy
was right

Poem by Walter Redinger October 2003

Walter Redinger is an active Senior Contemporary Canadian Artist. Sculpting for
more than forty years, he shows extensively internationally and in Canada. He
has won many international awards and is in top international collections.

MARGARITA STAVRAKI
stavrakirita@hotmail.com

How strong is the impulse to be transported, to leave behind ordinary
perceptions and enter an other world? Let's place a focusing lens, a frozen piece
of ice between ourselves and the view in front of our window, how does it look??

Margarita Stavraki holds a Master's degree in Arts and Scenography from the
London Institute - Central Saint Martins/ department of Utrecht School of the Arts,
Netherlands and with specialization in New Media from HGK Zurich, Switzerland.
She completed her first studies in Fine Arts in the Athens School of Fine Arts,
Greece and in Academia di Belle Arti in Milan, Italy. She was awarded the
scholarship of the "Association of Friends of Music", Greece. She has shown
extensively throughout Europe.

RUTH TAIT (RUTZ)
rtillustration@pathcom.com

In common parlance, the comic book is to fine art what pulp fiction is to literature.
The medium requires only that the mind working behind the form reach further to
grasp at substance. I take the form of the comic book and work to "intervene" in
narrative and character structure with stories that relate to my personal
experience.

Rutz was born into a diplomatic family and spent her early life on the move.
Consequently, she developed the eye of the unattached observer. Settling in
Toronto, Rutz started a family, trained as an illustrator at OCAD and then studied
Classical Animation at Sheridan. She then moved into the area of comic book
creation. At present, she is the Gallery Administrator and Curratorial Assistant at
Propeller Gallery on Queen Street W. She continues to freelance as an illustrator
specializing in storyboard art. She also pursues fine art painting and works as a
scenic painter for Community Theatre.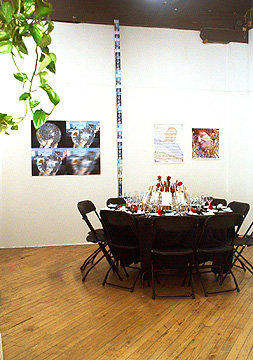 Bearing Witness,installation view, 2004, curator Antonia Lancaster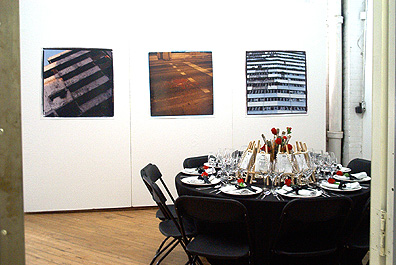 Bearing Witness,installation view, 2004, curator Antonia Lancaster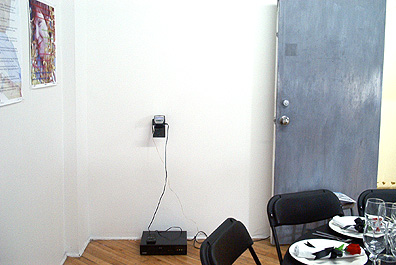 Bearing Witness,installation view, 2004, curator Antonia Lancaster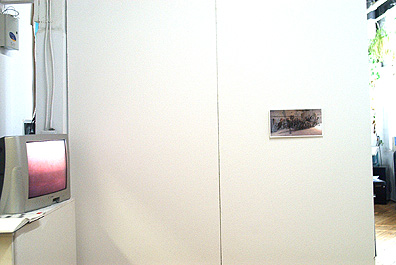 Bearing Witness,installation view, 2004, curator Antonia Lancaster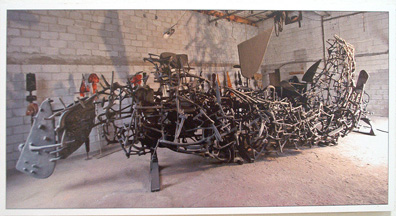 Bearing Witness,installation view, 2004, curator Antonia Lancaster