.......
KOBE beef are the Cadillacs of the cow world. They are raised in beautiful green open pastures, are fed beer to whet their appetites and are massaged with sake to keep their muscles marbleized and their skin soft. This performance considers the preparation of Kobe beef, as well as the fetishization of decadence through consumption. Assisted by her "handlers," Lisa Newman of the performance group Gyrl Grip will have her body "prepared" in the manner of expensive meat. This performance is not so much pro-vegetarian as it is an exploration of decadence, food, and sacrifice.
The Gyrl Grip is driven by the desire to reveal, and de-veil challenging issues that exist within postmodern life and society. Their goal is not to provide answers, but to expose the difficult questions hidden behind cultural taboos and media spectacle, and to provide a forum for dialogue (internal and external) through the performative act.
The core members of the grip are co-founders of the Portland, Oregon based 2 Gyrlz Performative Arts, Lisa Newman and Llewyn Máire (with their associated Avatars). Since forming in 1998, the Gyrl Grip has manifested over 25 public showings. Notable performances include: the Proud to Put Out text-based performance series hosted in Portland by 2 Gyrlz, participation in the 2002 Black Sun Festival in Washington State, Full Nelson 5 in Los Angels (2003), FluXconcert PDX (2003), and street performances throughout the Pacific Northwest. Boot Camp, which explores violence against transpeople as shown through media representations, was presented in Helsinki and Turku, Finland in 2004 as part of Studio Là-Bas' Space Contentions festival, as well as in Victoria, B.C.

FIVE HOLES, curated by Paul Couillard, foregrounds our bodies by examining aspects of the five basic human senses. The presence of bodies–the performer's body and the audience members' bodies–is an essential element of performance. We 'perform' when we bring our bodies into relationships with an audience in time and space. FIVE HOLES is an ongoing series (since 1995) that considers some of the ways in which sight, touch, smell, hearing and now, taste, allow us to perceive. Taste is perhaps the most 'personal' of all the senses. It is both primal—providing the impulses that drive consumption—and individualized: one person's desire is another's poison. While the word 'taste' is often associated with the concept of aesthetic discernment, matters of taste places its emphasis on a specific, visceral definition of taste: the perception of flavour and texture that takes place inside our mouths. This series explores the implications of a sense that operates through the placement of foreign material inside one's body. matters of taste is not concerned with the familiar social terrain of banquets and dinner parties so much as the links between physical sensation, unconscious/conscious drives, and our mouths as a point of contact with the external world. How does one orchestrate a performance for another's mouth? What are the dynamics that seduce, persuade or convince others to put things in their mouths? What are we or aren't we willing to put in our mouths? What intentions are bound up in the impulse to stimulate one's taste buds? What does our sense of taste reveal about our internal desires and external projections?
OTHER 5 HOLE EVENTS, TIMES, & LOCATIONS
Thursday, July 13

5-8 pm Lactation Station Breast Milk Bar
Jess Dobkin


The Ontario College of Art & Design Professional Gallery
100 McCaul Street, Main Entrance, Second Floor

8 pm Artist Talk

Jess Dobkin & Gyrl Grip

Ontario College of Art & Design Professional Gallery
100 McCaul Street, Main Entrance, Second Floor

Saturday, July 15

8 pm Kobe
Gyrl Grip (Lisa Newman & Llewyn Máire)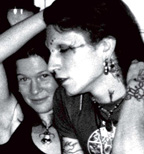 offthemapgallery
712 Lansdowne Ave (the back building)

Tuesday, July 18

7:30 pm Artist Talk
Tejpal S. Ajji & Irene Loughlin

The Ontario College of Art & Design Professional Gallery
100 McCaul Street, Main Entrance, Second Floor

Thursday, July 20

6-9 pm Liquid Skyline
Irene Loughlin (with the assistance of sound artist
Guillermo Galindo & fashion designer Jan Oosterhuis)


The Ontario College of Art & Design Professional Gallery
100 McCaul Street, Main Entrance, Second Floor

Sunday, July 23

6-9 pm The Oral Projects
Tejpal S. Ajji


Regent Park (for location info, call the Fado hotline 416-822-3219)


__OTMGallery________

OFFTHEMAPGALLERY
712 Lansdowne Avenue
The Back Building
Toronto, Canada M6H 3Y8

info@offthemapgallery.com
www.offthemapgallery.com
416 642 2113

Gallery Hrs: 2-5pm, Thur-Sat.

___OTMGallery_________