"Avalanche", 2006
www3.sympatico.ca/libbylibby/ ,

...
pg2
Reception 3-6pm, Saturday December 2nd
Artist present. Show runs from
Dec. 2nd - Jan. 27th, 2006/7
Gallery hrs: 2-5pm, Thurs-Sat. or by App't
Avalanche Happenings & Events,
Libby's Avalanche Installation
Interview with Libby

,
video projection night, poetry reading night,
Gary Michael Dault Review in the Globe & Mail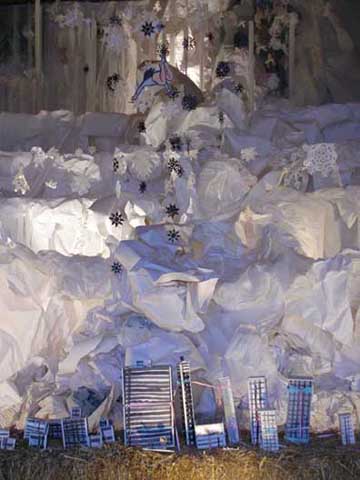 Libby's AVALANCHE at Offthemapgallery 06, photo: Libby Hague
Once upon a time, a long time ago,
Off the Map was the scene of a mini-disaster,
an enormous fire, the charred evidence of
which still runs along the roofline of the
gallery. Back then, the gallery was a garage
or maybe a stable.
In the tradition of disasters past and present,
Libby Hague will install "Avalanche"
- a huge paper sculpture that looms over a creche
on a bale of straw.The viewer will be confronted
with the "press pause" moment just before this
15 foot avalanche falls down upon the urban creche
and its occupants.
Or maybe not. Perhaps total disaster can be averted.
The artist suggests the possibility of rescue in a tiny,
young acrobat who tumbles down from the ceiling
- not even as big as the snowflakes - looking for all the world
like an honest-to-goodness angel.
Libby Hague.......
Libby would like to thank the Ontario Arts Council
for its generous support of this project.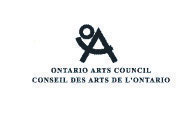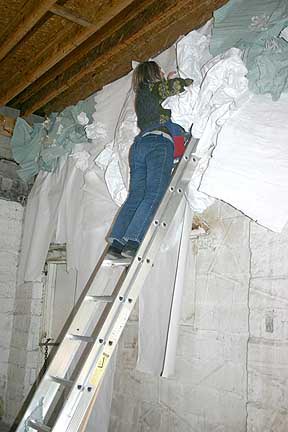 AVALANCHE HAPPENINGS:
(free but space is limited )

1.
special long hours for
Lansdowne/Dupont/Wallace Artwalk Dec. 2 -3 weekend
Sat. Dec. 2, 11 - 8 pm ;
OPENING artist present Sat. 3 - 6 pm. :
Sun. Dec. 3, 12 - 5 pm

2.
Thurs. Dec. 14, 8:00 pm : video projection
on the 'Avalanche' of Libby's video "Close to Home"
and some video works by Jace and Jon McCurley,
the co-founder of the Still Camera Video Festival

3.
Wed. Dec. 20, 8:00 pm: poetry reading:
selections from George Jonas' inspired,
forthcoming collection, The Jonas Variations
read by Philip Anisman

4.
Thursday, December 28th between 2-9 pm
You are invited to a holiday drop-in day
at Offthemapgallery. Libby Hague's Avalanche
will still be up and remember to dress warmly.
we are outside and it will probably have snowed
by then....


For more information contact Antonia at: 416 642 2113

GALLERY DIRECTIONS:
From the Bloor/Lansdowne subway station, walk north to Wallace and then another halfblock. It is on the WEST side in the back building of a yellow storefront. NOTE: ONLY USE THE WEST SIDE NUMBERS AS A GUIDE. The east side numbers have no relationship to the west side numbers.