PRESS RELEASE FOR PETRA HALKES' DELIVERED
Delivered: A painting installation@offthemapgallery
by Petra Halkes
Director & curator: Antonia Lancaster

Opening Reception, Saturday, December 6, 2 - 5pm
Show runs from December 6 - January 17, 2004

80 Spadina Avenue, 5th floor, Toronto, Canada M5V 2J4
Gallery Hours: Wednesday through Saturday, 11am to 5pm

Petra Halkes is an artist and writer living in Ottawa. She has exhibited in artist-run spaces in Ottawa, SAW and in St. Catherines, Niagara Artists' Company. Her paintings are in private and public collections, including those of the National Aviation Museum, Ottawa, and the City of Ottawa.

Halkes has not strayed far from the canvas in the past. The painting of a life-size truck on paper measuring 12' x 67', shown first at offthemapgallery, is a new departure for her.

Dividing her working life between painting and writing, Halkes has published numerous reviews and articles on contemporary art in magazines such as Border Crossings, Canadian Art and Parachute, as well as in scholarly journals. She will begin a postdoctoral fellowship, studying the status of painting in contemporary culture, at Concordia University in January 2004.


Artist's Statement: Delivered

Some years ago, trucks began to appear in my paintings. The monstrously large rig, thundering down the highway, hatchbacks and minivans only three, four feet away by its side, seemed to me the embodiment of existential dangers usually kept carefully at bay in an urban society.

Life is full of dangers that I cannot know. My fear has no shape, no weight, no sound. But a trailer truck I can see. It weighs. It rolls on huge wheels. It shines and snorts and honks and roars. It measures 12 feet by 67 feet; I can paint it.

I would like to thank Antonia Lancaster of the offthemapgallery for providing me with this opportunity to expand my painting surface. I also gratefully acknowledge the Ontario Arts Council for the production grant that allowed me to concentrate on this project. Finally, I thank the artist René Price for his practical suggestions and assistance.

-Petra Halkes



GARY MICHAEL DAULT"S REVIEW ON PETRA HALKES' DELIVERED
The Globe & Mail, Gallery Going, R16, Saturday December 20th, 2003

Petra Halkes at Offthemap Gallery

I know Petra Halkes as an art critic -- and a smart one too -- but didn't know until now that she made art herself. But clearly she does and, if this exhibition is any indication, she makes it hot.

Her show at offthemapgallery (http://www.offthemapgallery.com) is called Delivered and consists of only one piece, but it's a prodigious work: a painting twelve feet high and sixty-seven feet long of a red, life-size truck, an eighteen wheeler, which, painted on a plastic paper called Tyvec, is so vast it wraps around the gallery like a big, mechanistic cloak or cowl, enveloping and almost smothering the viewer. It's a walk-in 18-wheeler, the truck-as-environment.

Halkes tells us , in her exhibition statement, that trucks have been appearing in her paintings for some years now. She says she sees the "monstrously large rig...as the embodiment of existential dangers usually kept carefully at bay in an urban society." I guess it depends where you stand on vehicles. Maybe it's because I'm a boy, but I like trucks and find them sort of macho and thrilling -- and excitingly designed.

But not Halkes. "Life is full of dangers that I cannot know," she writes. "My fear has no shape, no weight, no sound. But a trailer truck I can see. It weighs. It rolls on huge wheels. It shines and snorts and honks and roars. It measures 12 feet by 67 feet; I can paint it." And so she has.

Price on request. Until Jan. 17, 80 Spadina Ave., Studio 506, Toronto; 416-642-2113.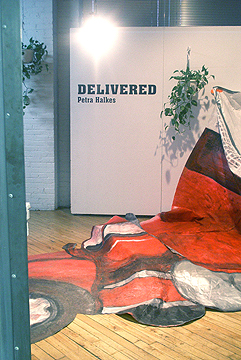 DELIVERED, Installation view, 2003, Petra Halkes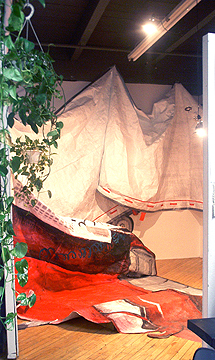 DELIVERED, Installation view, 2003, Petra Halkes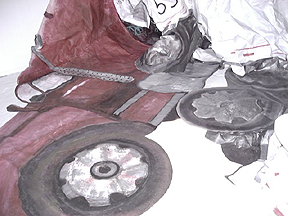 DELIVERED, Installation view, 2003, Petra Halkes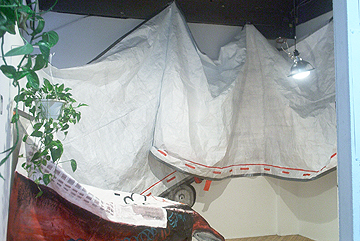 DELIVERED, Installation view, 2003, Petra Halkes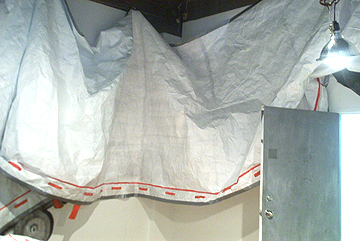 DELIVERED, Installation view, 2003, Petra Halkes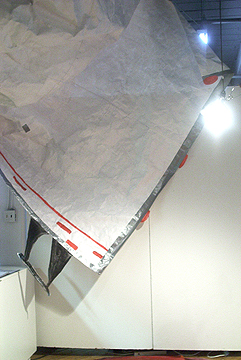 DELIVERED, Installation view, 2003, Petra Halkes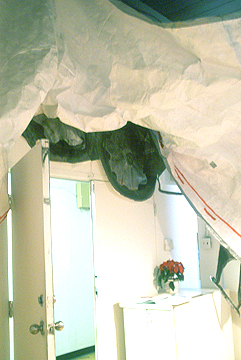 DELIVERED, Installation view, 2003, Petra Halkes






DELIVERED, Installation view, 2003, Petra Halkes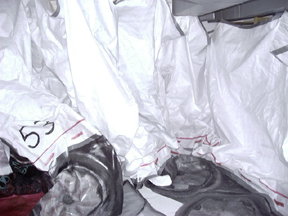 DELIVERED, Installation view, 2003, Petra Halkes