drawings & Sculpture by Robert Kananaj
review by Petra Halkes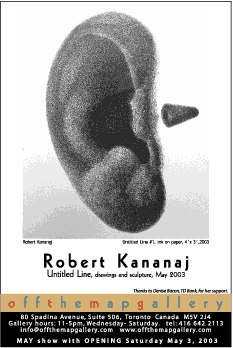 ROBERT KANANAJ's UNTITLED LINE AT OFFTHEMAPGALLERY
Director & curator: Antonia Lancaster
ARTIST: Robert Kananaj
OPENING: Saturday, May 3rd, from 2-5pm.
LOCATION: 506 - 80 Spadina Avenue, Toronto
SHOW RUNS: May 1 - 31, 2003

Offthemapgallery is proud to present drawings and sculptures by Robert Kananaj in his first solo show in Toronto. Kananaj is showing an installation work comprised of four large black pen and ink drawings and a large wire sculpture.

The four drawings are large scale interpretations of body parts.Kananaj uses an endlessly drawn line as the tool of his search. Kananaj has extended this notion into the sculptural form by forming a large hand out of a length of silver wire.

These works take us on part of Kananaj's long frenetic journey and perpetual quest. With his work, Kananaj explains to us that couched in the mondane and the ordinary lies some of the solutions to the oldest of mysteries. The spiritual, and the physical, are manifested through the countless unconcious and repetivitive acts of the body. From minutae comes the whole. Kananaj's quest becomes an act of contemplation through the repetivitive flow of line, and the quest is relentless.

Antonia Lancaster, curator, offthemapgallery, April 26, 2003
info@offthemapgallery.com



ARTIST STATEMENT

Figuratively, the meditative form is silently screaming. The line flows freely in a simple image resulting in energy where obsessive mark making are like thoughts in constant motion and the line endlessly contains the image which parallels the human journey in life. The wire sculpture is a different side of the same journey as the drawings. The big size of the work compliments the analogy of life metaphorically.

Robert Kananaj, April 26th, 2003, kananaj@yahoo.ca




PETRA HALKES' REVIEW OF UNTITLED LINE
BorderCrossing, Issue #87, pp.100

Robert Kananaj

Robert Kananaj unwinds an endless line like a thread from a spool. On four sheets of paper measuring four by three feet each, the line unfurls thinly in spaces where it catches the light, while in others it moves incessantly back on itself, gathering darkness. When the line stops, a foot, hands covering a face, the palm of a hand and an ear have appeared. A small cone of thread floats by the side of the ear, perhaps a sign of more drawings to come.

The craftsmanship of these works brings to mind accomplished drawings such as Durer's Praying Hands and Goltzius's burned Right Hand. Their hands form a testament to technical skill and invite the viewer to consider the vulnerability and transitory nature of the human body. While Kananaj's drawings compete with the Old Masters in skill, their size and the meditative method in which they were produced speak of a different intent. Kananaj's oversized ear and foot reverse the process of recognition and contemplation; the endlessly moving line testifies to a process of contemplation that stops when a monumental image of a strong and functional body part can be recognized.

The source of Kananaj's line seems closer to the spiritual quest found in Irish monasteries of the seventh and eight centuries. His openwork sculpture of a hand, made of silver wire, that complements the drawings in this exhibition, also points to a Celtic line. Like the heads and legs interwoven in the intricate patterns of the Book of Kells's carpet pages, one of Kananaj's drawings shows a palm of the hand overlaid with a grid, from which a body in pieces emerges.

The monks worked their way through a hierarchy of imagery, from the animalistic to pure abstract ornamentation that purported to open a window to the divine. In their dark age of great waves of migration, heaven was a solace to which the suffering could still turn, but no such transcendance is to be found in Kananaj's work. His spiritual quest is far more rudimentary and existential, connected as it is to the raw political realities of a life in our secular, but similarly unsettled , times.

Born in Albania, Kananaj left Tirana and moved to Toronto five years ago. This bare fact hides the sacrifices and the blind leap into the unknown that such a move entails, but Kananaj's drawings are a moving record of one man's struggle to put together a scattered life. Torn from all that is familiar, the artist is thrown back on himself and finds in his body a constant that can be relied upon to create connections to a new and different world.

Robert Kananaj's exhibition "Untitled Line" was at the offthemapgallery in Toronto, Ontario, from May 3 to June 6, 2003

Petra Halkes is a writer and critic who lives in Ottawa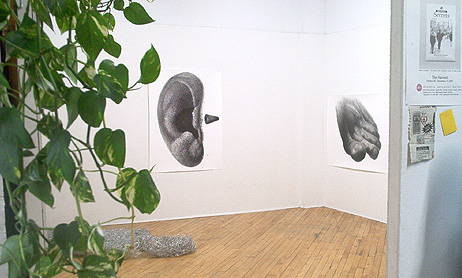 Untitled Line, Installation View, 2003, Robert Kananaj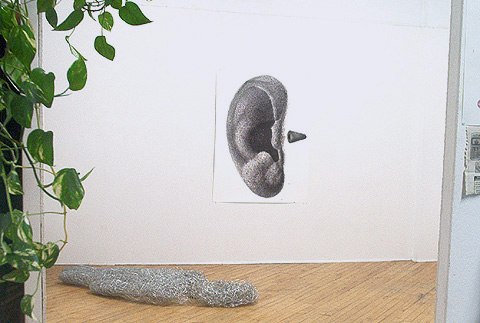 Untitled Line, Installation View, 2003,
Robert Kananaj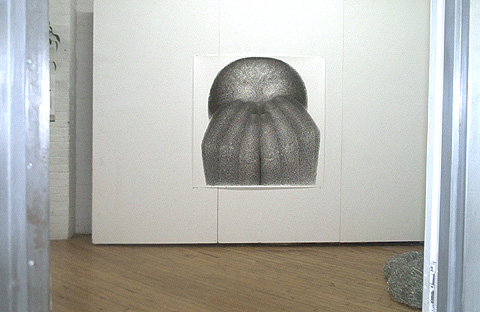 Untitled Line, Installation View, 2003,
Robert Kananaj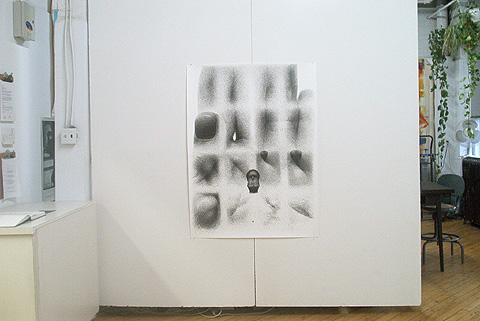 Untitled Line, Installation View, 2003,
Robert Kananaj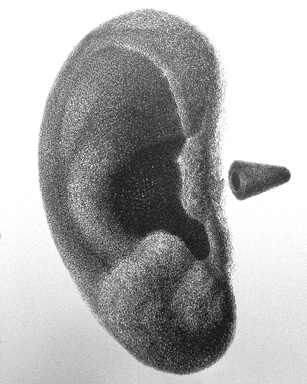 Untitled Line #1, Ink on paper, 3' x 4', 2003,
Robert Kananaj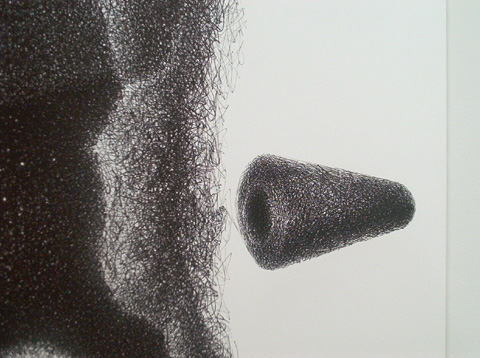 Untitled Line #1, detail, 2003,
Robert Kananaj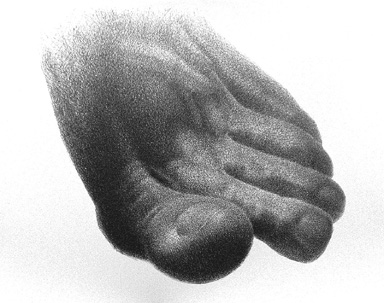 Untitled Line #2, Ink on paper, 3' x 4', 2003,
Robert Kananaj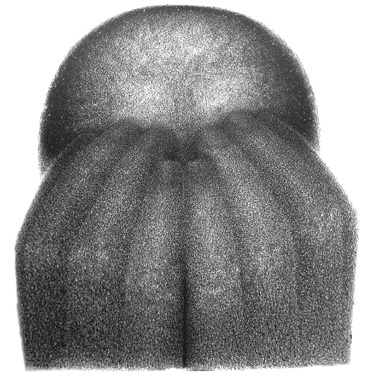 Untitled Line #3, Ink on paper, 4' x 4', 2003,
Robert Kananaj